Regular price
$399.99 USD
Regular price
Sale price
$399.99 USD
Unit price
per
Sale
Sold out
Go shopping. Hit the boardwalk. Have lunch with a friend. Read a book under a tree. All with confidence. 
Your schedule will be full with the Escape Rollator. This walker with four wheels provides not only support when walking, but also a place to sit. It folds easily to put in a plane, car, boat or train.
Navigating a crowded restaurant or theater? The Escape stands when folded so it can be used when passing through narrow spaces.
If you are taller or shorter than average, the Escape is available in 3 seat heights to fit users from 4"7" to 6'7". Look at the handle height and seat height when choosing the right size Escape for you. 
In red, grey and blue. 
Need to spruce it up a bit? Escape accessories are available here.
Where will you go next?
What Makes the Escape different:
The Escape has so many great features. The brake cables are hidden in the walker so they don't get caught on doorknobs and other things.  The larger than average 8" wheels roll easily over cracks and bumps. The durable nylon mesh basket folds with the walker, has 2 large Velcro pouches to store valuables, and can hold up to 11 pounds. The Escape is easy to assemble with only 4 items to put together. 
Why I like it
As an occupational therapist I know it is hard to accept when you need to use a walker. It is a change. When you have one you love, it is SO much better :)
Here are some of the measurements and specifics.
Max. Weight Capacity: 275 lbs
Overall Dimensions: 25.6"L x 25"W 
Weight: 16.2 lbs
Handle Height: 28" - 36" (Super low/Petite for those 4'6"- 6" tall); 29.5" - 37.5" (Low/Medium for those 4'9"- 6' tall); 32" - 40" (Standard/Tall for those 5'3"- 6'7")
Seat Height: 19" (Super low/Petite); 21" (Low/Medium); 24" (Standard/Tall) 
Seat Dimensions: 18.5"W x 9.5"D
Wheel diameter: 8"
Folded Depth: 11"
Distance Between Handles: 18" 
 ** Please note that we can not offer Express Shipping on this item due to the size of the package.**
Shipping & Returns

Shipping

In the United States

Free US Postal Service shipping with tracking on all orders over $60 shipping in the US. Flat $8.99 rate for orders under $60. Allow 3-4 business days processing time + transit time. Transit time is generally 2-4 days but carriers have been experiencing delays due to labor shortages and recent USPS changes. Express overnight shipping is available on most items for $44.95.

Please note that some larger items are not eligible for express shipping. This will be indicated in the product description. 

The Carbon Ultralight Rollator often ships from Denmark which can lead to longer than normal shipping times due to customs and international freight delays. 

International Orders

Ease is currently shipping to the US and Canada.  

Canadian shipping is calculated by weight and will be visible at checkout. Both First Class & Priority Mail options are available. 

Please note that the buyer is responsible for any VAT, tariff, duty, taxes, handling fees, customs clearance charges, etc. required by your country for importing consumer goods. We do not collect this beforehand, and can't give you an estimate of the cost. 

Ease Living Simple 30 day Return Policy

At Ease Living we want you to love your purchase. If you have any issues or change your mind within 30 days of purchase, please go to the return portal HERE to start your return.

Products must be returned with their original packaging unless different arrangements are made in advance.

You will be responsible for paying for your own shipping costs for returning your item. Shipping costs are non-refundable. 

Refund will be issued after the item has been received and inspected at the warehouse. Allow at least 5 business days from receipt of the product at the warehouse for this process to occur.

Bathroom products can not be returned for health and hygiene reasons.



Share
View full details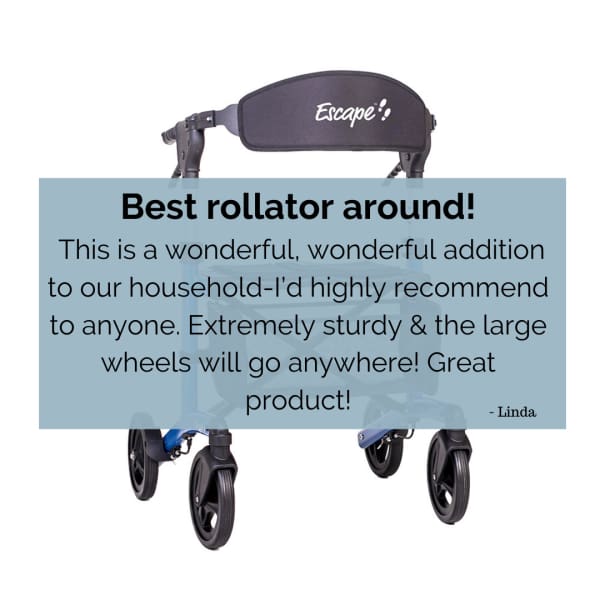 I have owned an Escape for years and love it.
I'm so glad you like the Escape. The right walker really does make all the difference!
Great Rollator
The Escape rollator is a very good one and we take it everywhere. Just need to know where to get the drink holder.
Pain free
I swear to God I have 2 discs in my back they are causing me incredible pain I mean debilitating pain it was radiating down my left leg I go to see a physician her neck back and spine and he said I have compression issues in my back so he gave me some narcotics to kill the pain add to start a program of physical therapy. I did as he said but ended up thinking about getting a scooter we went to this place in Columbia South Carolina and instead of spending $1,200 I ended up getting a walker called The Escape it cost $399 and I swear to God as I live and breathe I've had it for 3 days now and when I use it to walk I have a 0 pain and walk absolutely normally and when my daughter saw me you do this she burst into tears as did I it was unbelievable I don't know what powers this unit possesses but go try one it one of these health stores and see what it can do for you it is unbelievable I am not sure if it's the way I stand I don't slouch over and the built-ins seek is comfortable and everything about this unit is phenomenal I know $400 is a lot of money but I would have spent three times that if I knew I could buy something that would ease and take away the pain it would go from 10 to 0. Give it a try you will not be disappointed
Thanks for your 5-star review, Joe! We're so thrilled to hear that you're experiencing positive results from using your Escape Rollator Walker and that you would highly recommend it to others.
Five stars
Excellent accessory for home and travel. It easily compresses to fit through any size doorway and also it is light and can be put into car by anyone
We're so glad you're enjoying the portability of your Escape Rollator Walker, Marti! Thanks for your 5-star review!
Best rollator around
My husband has dementia & is very wobbly on his feet. I bought the Escape for him, & he Loves it!! He hasn't fallen since & motors around the house like a runner! The best part is that when folded, it can still support him. This is a wonderful, wonderful addition to our household-I'd highly recommend to anyone. Extremely sturdy, & the large wheels will go anywhere! Great product!