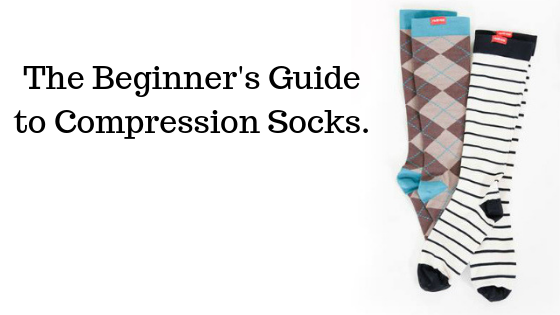 The Beginner's Guide to Compression Socks
For many, compression socks are simply irreplaceable. They have an incredible ability to promote good circulation and ward off some serious side effects of poor blood flow, and that makes them a more than just socks.
Of course, if you've never tried them before, you might be curious about how they work. Here are some answers to common questions about compression socks.
What Are Compression Socks?
Compression socks or compression stockings are often worn to help alleviate poor circulation and the problems it causes. Poor circulation can lead to serious problems like swelling in your legs, numbness, pain, muscle cramps and even blood.  So, if you do suffer from it, your physician is very likely to suggest compression devices to help alleviate the symptoms.
These socks apply pressure to your legs, supporting circulation by mimicking the ability of your muscles to pump the blood backup from the major extremities (the legs and feet), helping push blood back up towards your heart where it can be re-oxygenated and continue circulating.
Typically, compression socks are tighter around your toes and get looser as they come up your leg.
How to Choose The Right Pair
You don't want to simply pull any pair off the rack and put them on. Compression socks come in more sizes than standard socks and in different levels of compression, or mmHg. Click here for a guide to choosing the right mmHg for your needs.
Compression Sock Benefits
There are even more reasons to wear compression socks other than the  health benefits for those with poor circulation. They are also recommended for leg and foot swelling and pain. People often choose to wear compression socks for comfort when they have to stand for long periods of time. They are also great for travel as they can help prevent blood clots when sitting on long journeys.
There's a reason why most athletic shops sell and promote compression socks. Their ability to improve blood circulation, speed up recovery time, and prevent soreness make them a valuable companion for gym-goers and non-athletes too.  
Find The Right Socks
In addition to making sure your compression socks have the right level of compression and are the right size, find some you like! You are no longer confined to coring black, white or beige socks. There are so many cute compression socks for women and for men. You won't wear socks you don't like and they won't do you any good sitting in a drawer. Find the best compression socks for you and your legs will Thank you.
Shop our collection of compression socks for men and for women here.
Want more articles like this? Also be the first to know about sales, new products and restocks.  CLICK HERE to Sign Up. 

Any questions or comments? Here is how to reach me - CONTACT