The Carbon Ultralight Rollator Walker
You have decided it is time to use a walker. But the options they showed you at your local home medical store were less than inspiring.
You deserve a better walker.
After all, this is your mobility, your safety and your dignity we are talking about here.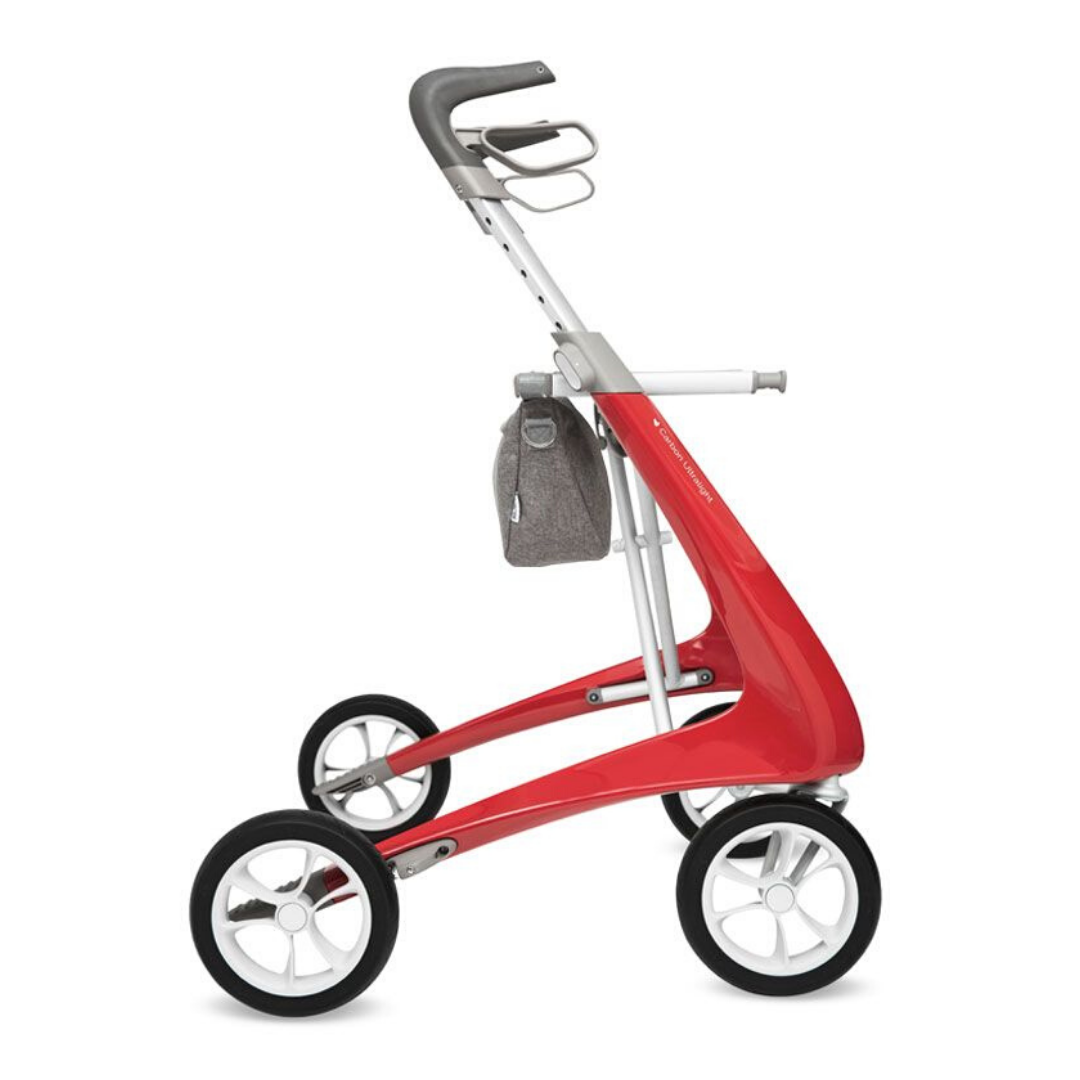 Award Winning Design
Designed with inspiration from fast moving animals and sports cars. 
Made of carbon fiber for strength while remaining lightweight.
A built in seat means you always have a place to rest.
Ergonomic handles designed for comfort and control
.
Easy to apply brakes that lock when you want to take a rest.
Buy the Carbon Ultralight Now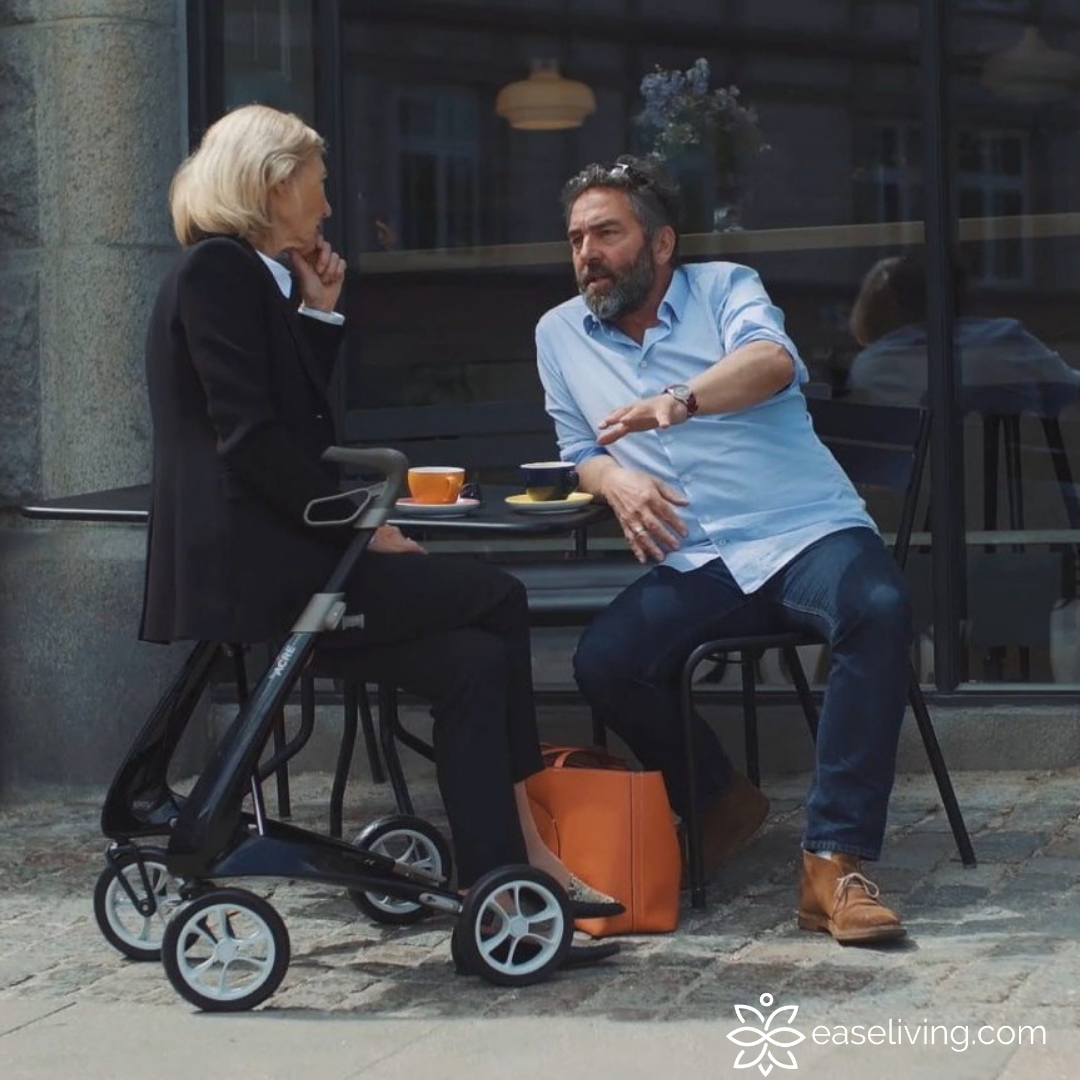 How the Carbon Ultralight is Different
Lightest rollator in the world at only 10.6 lbs.
Folds up with a gentle lift in the seat for easy transport and storage
Height adjustable handles for the perfect fit.
Comes fully assembled. Simply unbox, unfold, click, and go.
Beautiful and functional design that motivates you to get out
A carbon fiber frame that is 5x stronger than steel.
See the Carbon Ultralight Now
More Details
Measurements & Specifications

Weight : Regular 10.6 pounds | Wide 10.9 pounds | Compact 10.6 pounds
Seat Width : Regular 16.5 in | Wide 18.5 inches | Compact 16.1 inches 
Seat Height : Regular 24 in | Wide 24 in | Compact 22 inches
Width: Regular 24.6 in | Wide 26.2 in | Compact 24.2 inches
Folded Width : Regular 9.8 in | Wide 9.8 in | Compact 9.8 in
Handle Height : Regular 31.5-37.4 in for those 5'2' to 6'2"| Wide 31.5-37.4 in for those 5'2' to 6'2"  | Compact 31.1"-35.8" for those 5'2"to 5'10"
Width Between Handles : Regular 15.3 in | Wide 17.3 in | Compact 15 in

Wheel Diameter: 7.9 inches
Max User Weight: Regular 285 lbs | Wide 285 lbs | Compact 285 lbs
Shipping & Returns

The Carbon Ultralight is shipped from Denmark. This means it might take a bit longer to arrive than packages you are used to receiving in the US.
Because of this, express shipping is not available.
Your Carbon Ultralight can be returned to our warehouse in Detroit if you find it doesn't work for you.
Why do the handles look different than most rollators?

The handles on the Carbon Ultralight Rollator are turned in the opposite direction than on most rollators.
This provides a better posture while walking as you can pull the rollator closer to your body and walk upright. You shouldn't push a walker like a shopping cart!

Fun fact: The idea when designing the handles was that besides being ergonomic, they also had to make you feel good and safe. They are formed so that it feels like you are holding someone else's hand when grabbing on to them. :)
Will the Carbon Ultralight Rollator fit in the trunk of my car?

The Carbon Ultralight Rollator folds flat and is only 9.8″ wide when folded.

It can easily be lifted into the trunk of a car and we have yet to encounter a trunk that is has not fit into. The folded measures for the rollator is: 26.0" x 9.8" x 31.5″
Where are the brake cables?

The brakes cables are hidden inside the frame. It is one of the many great elements of the Carbon Ultralight.
Why does is matter? When the cables are hidden inside the frame, they won't get caught on things like doorknobs and furniture when you walk by. This is safer and helps the walker to last longer.
And lets face it, it just looks better!