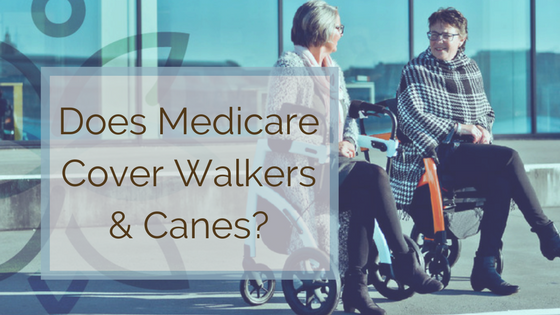 Does Medicare Cover Walkers & Canes?
You've been feeling a little weak or unsteady lately and have decided to do something about it before it becomes a problem. Or maybe your doctor, therapist or child took a look at you and said, "Guess what? We are getting you a walker or cane." Before you guffaw and so "NO WAY!", take a step back and give it some thought. If a walker or cane keeps you independent and safe, it is probably a good idea. If you've had surgery or an injury, you might not have a choice.
Will your cane or walker be covered by Medicare or insurance? It depends. And it is complicated.
What does Medicare cover and how to make the claim?
Medicare Plan B and Medicare Advantage Plans cover renting and purchase of walking aids like canes and walkers. But there are certain conditions to satisfy to receive coverage for the device.
First, you must produce a prescription for the walking aid from a doctor who participates in Medicare. The prescription should confirm that your mobility impairment prevents you from doing daily activities as you should. In other words, it should suggest that the equipment is medically necessary to help you move independently. It should also state that you will be able to  use the equipment safely, without any danger of accident or injury.
Once you have this prescription, you can buy your walker or cane from a medical equipment company that participates in Medicare. Not all medical supplies stores do participate in Medicare so make sure you call first. The DME (Durable Medical Equipment) company will direct you to walkers and canes that are approved by Medicare, and you can choose from these options. You will have to provide your insurance details to the supplier and fill out some forms to complete the purchase.
Coverage under Medicare Plan B is 80% of the Medicare-approved cost or rent of an approved device. However, the actual amount you have to pay will depend on the type of Medicare coverage you have. Under Medicare Plan B, you will have to make the 20% co-pay from your pocket. If you have a Medicare Advantage Health Plan or Medigap insurance, it might cover the co-payment amount as well.
Many people choose to buy a cane or a walker without a prescription as they decide they don't want the hassle or dealing with Medicare or don't like the Medicare options that are available. There are so many choices available when looking outside of what is covered by Medicare. You can find something that fits your style and your needs, which might make it more likely to be used instead of sitting in the closet.
Ease Living offers a curated selection of canes, walkers and accessories here. Products chosen by an occupational therapist for their utility and for their style.
Want more articles like this? Also be the first to know about sales, new products and restocks.  CLICK HERE to Sign Up. 
Any questions or comments? Here is how to reach me - CONTACT