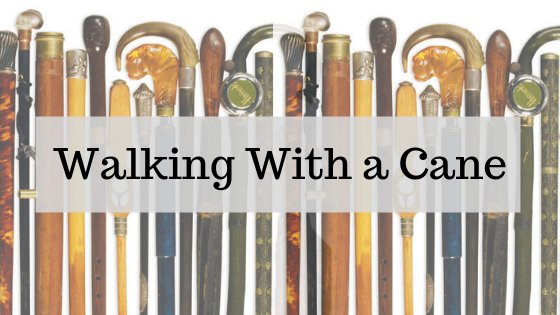 Walking With a Cane
You've found the perfect cane to keep you moving through your life. But how to use it correctly? Read on to learn how to use a cane properly for the most benefit.
Is a cane right for me?
First, know that canes are best for minor injuries and balance issues. A cane is not meant to support a large amount of weight like crutches.
Make sure your cane is the right height.
While wearing regular shoes, stand upright with your arms relaxed at your sides. The top of the cane should be level with your wrist. When taking measurements to order a  cane, measure from the wrist joint down to the floor when standing as above. If you're buying a gift, a good guideline is to buy a cane that is half a person's height. So if they are 5'5" (65 inches), a 32-33 inch cane will be the right size. Some canes are ordered by height and others are adjustable.
How to walk with a cane.  
Hold the cane in the hand on your "good" side (opposite the injury). Take a step with your "bad" leg and bring the cane forward at the same time. The cane and opposite leg should touch the ground at the same time. Take average size steps, you shouldn't be stepping ahead of the cane or having to catch up to it. If you are using the cane for general balance and not for an injury, hold the cane in your dominant hand.
Navigating stairs.
Climb up the stairs by following the rule "up with the good". Hold to the rail, if available, and hold the cane in the other hand. Put your stronger leg up on the step. Bring up the cane and your weaker leg to meet the stronger leg. When going down the stairs, continue to hold the railing in one hand and the cane in the other. Now it is "down with the bad" The weaker leg and the cane step down first then the stronger leg steps down meet them.
Tackling curbs.
Very similar to stairs. When going up a curb, step up with your strong leg then bring up the cane and the weaker leg to meet them. When stepping off the curb, start with the weaker leg and the cane in the opposite hand then step down with the stronger leg.
Most importantly, don't rush! And pick a cane (or canes!) that you love so you will never forget to use it as you maneuver through life. See Ease's curated selection of canes here. 
Want more articles like this? Also be the first to know about sales, new products and restocks.  CLICK HERE to Sign Up.