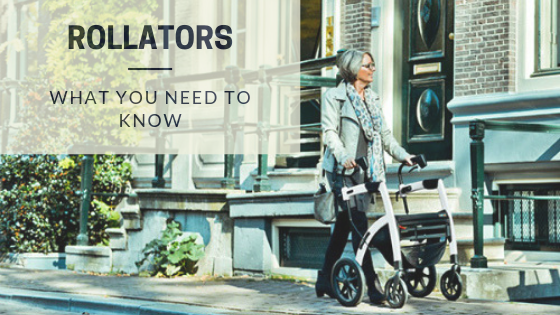 What is A Rollator Walker?
A rollator is a walker with four wheels and hand brakes- most also have a seat to take a rest. Rollators are a great choice for someone who needs a little help with stability but also likes to always have a place to rest and an easy way to carry things with them. There are a lot of rollators on the market. Which is the best for you? At Ease Living, I have searched the globe to find the best rollator walkers. This was not an easy search as I am not easily swayed by bells and whistles or cost.  Only the best for Ease's customers.
Here are some details about my favorites:
Rollz Motion Rollator Walker     
The Rollz ia amazing.  I love the modern look and different colors. Functionally there are some great features. It really is a two-in-one: a wheelchair and a walker. The transformation from one to the other takes less than a minute with no tools. Truly ingenious. A lot of people buy the Rollz to travel because instead of bringing a walker and a wheelchair, only one item is needed. And, unlike most transport chairs, the Rollz features a solid seat that is much more comfortable than a sling seat. It also will stand when folded, making transferring from car to the rollator safer and much smoother.
Carbon Ultralight     
My best selling walker! This rollator is made of carbon fiber which is one of the world's strongest and lightest materials. This makes the carbon ultralight rollator easy to transport and provides a smooth effortless ride. And it looks great at the same time. The Carbon Ultralight comes in 3 colors and in 2 widths and is height adjustable for the most comfortable fit. 
There are two special features about this rollator that is available in grey and red:
It comes in three different heights and each is adjustable beyond that. It will accommodate nearly anyone 4'7" to 6'7".
It is stable when partially folded. This makes it perfect for getting through narrow doorways, stores or restaurants, or navigating crowds. Standard rollators and walkers usually don't fit through bathroom doors.
The Escape Mini     
A slightly smaller and lighter version of the Escape discussed above. And it is ORANGE!
The EZ Fold N Go Rollator     
The newest addition to the Ease rollator line up id the EZ Fold-N-Go Rollator. It is easy to fold with full locking brakes and a comfortable seat. This rollator weighs only 14 pounds and folds 3 times smaller than most for easy transport
Do you have questions about rollators or need help picking the right one? If you aren't sure if a rollator or a standard walker is right for you, check out this post  to pick the best solution.
Want more articles like this? Also be the first to know about sales, new products and restocks.  CLICK HERE to Sign Up. 
Any questions or comments? Here is how to reach me - CONTACT